As a first-generation company, we're still writing the SUPERDUPER story. So when the opportunity came up to partner with legendary denim brand Roy Roger's, with whom we share a quest for quality as well as a hometown, we saw it as a crucial chapter.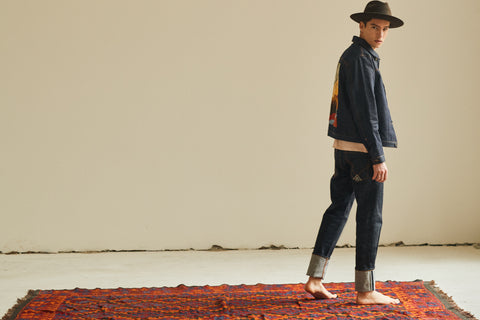 The Roy Roger's story started in 1952. Several generations on, their passion for detail is stronger than ever. Together, we dived into their archives to reinterpret an iconic Roy Roger's jacket. We unearthed a historic piece made from a clear blue denim to remake with a contemporary touch. Made using selvedge denim sourced from the renowned Japanese Kuroki mill, whose soft water techniques are especially gentle on the environment, our jacket features a striking co-branded chain stitch machine embroidery on its back.
Hat made of 100% merino wool
To top things off, we've created a special edition fedora crown hat made of 100% merino wool, stiffened in the western style. The addition of a small denim stud next to our earthpieceTM symbolises the constant dialogue between one collaborator and another, reminding us to keep in touch with both past and present. And so the story continues to evolve.